Genomics Solutions
Achieve Your Genomic Potential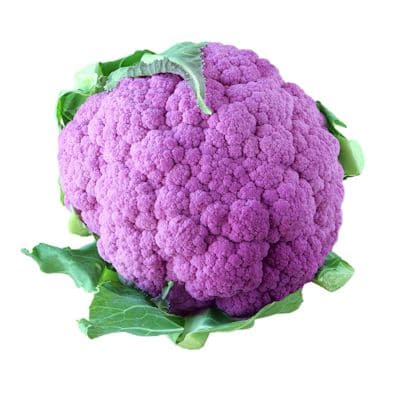 Empower Yourself
Knowing your gene blueprint, you can find your path to ultimate health and wellness.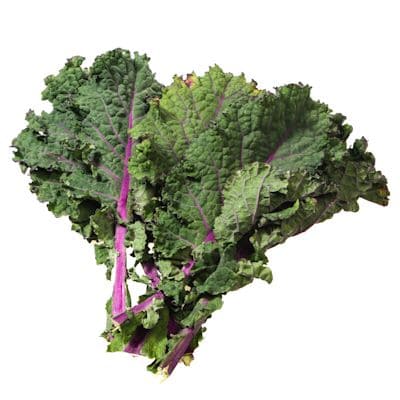 Looking for Optimal Health?
Ever wonder why health conditions run in families?  Learn how you avoid health conditions and live a long and healthy life.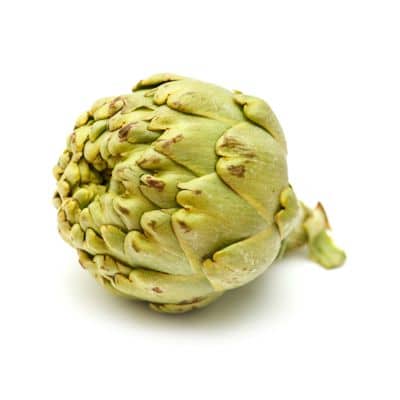 Restore & Revitalize
Have you struggled with health conditions like poor gut health?  Ready to try something different?
What are Genomic Solutions?
Won't it be great to know what is the best diet is for you?  And, what is the best work out for you?  Stop guessing and learn what is optimal for you.  Even find out what is the best fitness plan for you.  
Your genomics can give you the answers to how you can not just live longer but age gracefully.  Knowing your genomics and how you can optimize your health throughout your lifetime is the key to not just living longer, living with healthy and vitality.  
Genomic testing and consulting allow for a truly personalized approach to nutrition consulting.  Whether you are looking to achieve optimal health or resolve a health condition, genomics allows for a truly personalized approach.  
Genetics Basics
We inherit genes from our parents like our eye color or our hair color.  Those genes will not be changed but now some of the genes can be supported and changed with nutrition and lifestyle changes.
Genomics is the science of looking slight gene variants that can affect everything from how we manage our weight to what health conditions that might get.  Most of these variants are due to our ancestor's adaptation to their environment and diet.
For instance, some of use can metabolize and utilize vitamin A from fruits and vegetables better than others.  Vitamin A is found not just in carrots and other vegetables but in its active form in animal products and fish.  Some of us need more active vitamin A from animal products so a plant-based diet may not be the best for them.
By using genomic testing, we can determine what those variants or single nucleotide polymorphisms (SNP's), and how you best change your diet for optimal health.  We can also now determine how those variants can affect your immune system, detoxification and even why you don't sleep well.
Get started today!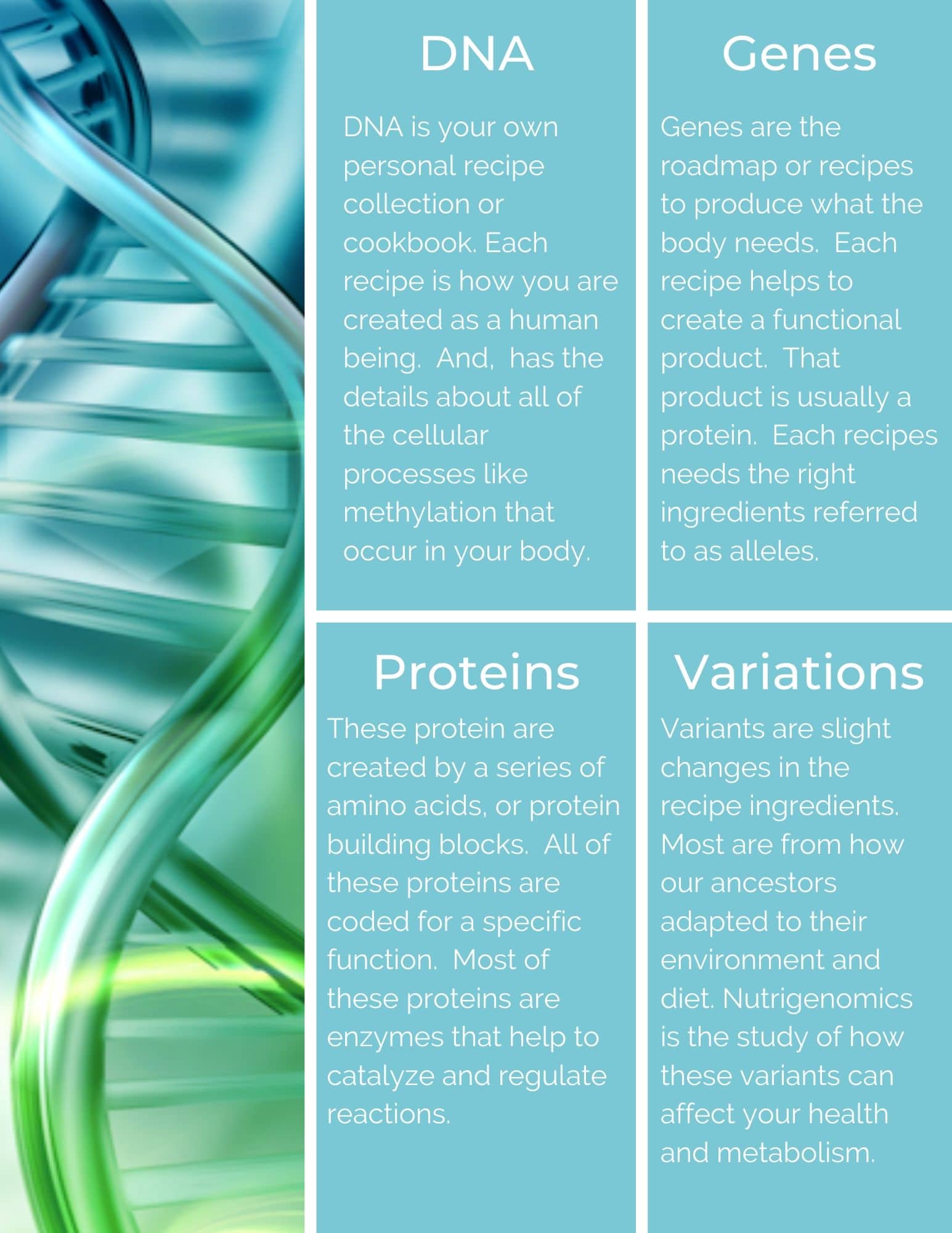 Genomics Solutions
Your genomics can affect everything from how you manage your weight to hormone balance.  Genomic testing panels can cover everything from metabolic health, skin health and even some specific to gut health.  Whereas the reports from the test are comprehensive, it bringing all areas together with a focus on your health goals and conditions.

Nutrients
Key nutrients like vitamins A and D are covered.  Focus is how well do you metabolize nutrients and how variants can impact your nutrition status.

Detoxification
Detoxification is key to your health and hormonal health.  Focus is on how you are able to metabolize toxins including some medications.  And, how you safely clear out hormones.

Methylation
How well do you methylate?  Do you have MTHFR?  This key biochemical pathway is crucial to your overall health.  Knowing what variants that you have in this pathway is key to optimal health.

Cardiovascular 
We often think that cardiovascular health is just about heart health.  Our heart depends on a healthy metabolism, liver health, and cholesterol metabolism.  This section also covers your risk for diabetes. 
Nutrition Genome Report
One of my favorite DNA or genomic testing labs is Nutrition Genome.  You can get started today and learn how you can nourish your genes.  
This comprehensive and easy to read report includes the major panels testing over 85 SNP's.  Currently including key variants for metabolic health and COVID variants.  
In your report, you will have all of what you need to finally reach optimal health.  However, if you are looking to resolve a health condition, like autoimmune, then you would greatly benefit from a genomic consult that brings everything together for you.  
Also, included in your results is the raw data!  What can you do with this seemingly endless list of letters and numbers?  As a qualified genomic counselor, you can use this raw data to research other SNP's relevant to your health conditions.  This brings together a more complete solution.  
All Genomics Packages Include:
Genomic At Home Test Kit
Easy to Read Report
Consult to Review
Your Own Genomic Road Map
Completely Confidential
15% off Professional Dietary Supplements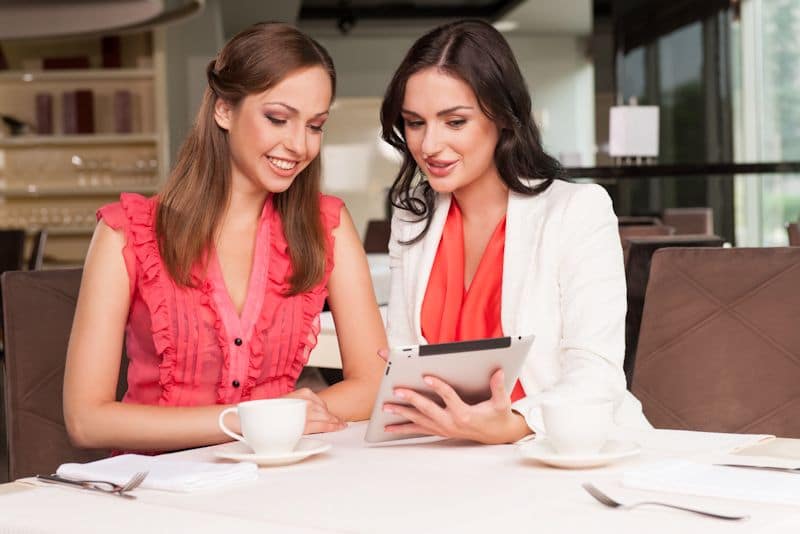 Genomics Solutions
Offering three comprehensive genomic solutions based on your needs.  The basic program empowers you to make the right nutrition and lifestyle choices for your body ending the confusion and frustration with fad dieting.  If you are struggling with an unresolved health condition such as poor gut health and hormonal imbalances, my 3-month concierge program may be the right one for you.  All packages include the genomic test, consults and coaching to help you speak to your genes for optimal health.  
Empower Genomic Package
Reg. $399.00
Includes:
At Home Genomics Test
Panels – Nutrient Optimization, Detox
Additional Panels $89.00 each
Comprehensive Review of Your Results
Recommended Lab Tests
15% of Professional Dietary Supplements
*Additional Lab Tests costs not included.
Optimize Health Package
Reg. $699.00
Includes:
At Home Genomics Test
Nutrient Optimization, Detox, 1 Additional Panel
Functional Nutrition Assessment
Follow Up Q & A Consult
Comprehensive Review of Your Results
Recommended Lab Tests*
15% of Professional Dietary Supplements
*Additional lab costs not included.
Restore & Revitalize Package
Reg. $1599.00
Includes:
At Home Genomics Test
Functional Nutrition Assessment
Comprehensive Review
Recommended Lab Tests
Level 1 Lab Panel Costs Included-$250.00 Value
Lab Panel Review w/Action Plan
Follow-Up Consults (2)
15% of Professional Dietary Supplement
Genomic Test Kit
After you book your package, you will be sent your test kit.  The test simply uses salvia and is super easy to do.  Kits include a prepaid label which you just use to return your sample to the lab.
While We Wait
The test takes 3-5 weeks to get the results back.  While we wait, you have your first consult where I review your health history, profile, and nutrition.  This gives me a good background on how to focus your final report.
*Not included in Empower, 23and Me Evaluation
Test Results In
Once your test results are in, I will contact you for your second consult.  This is where I bring it all together for you.  After reviewing your test results, you will receive a comprehensive report from with action plan and next steps.  
Virtual Nutrition Consulting
Are you ready to achieve optimal health and want the convenience of staying home for your consults?  All of my consults are virtual, so you can stay at home and get on your healing journey today.  Using Practice Better, I offer an easy-to-use phone app for communication, food journaling, and more!
Not sure how the lab testing works with virtual consulting?  Most of my consulting and packages include lab testing, including at-home lab kits sent to your home!  For other tests, you will be given the closest lab location to your home.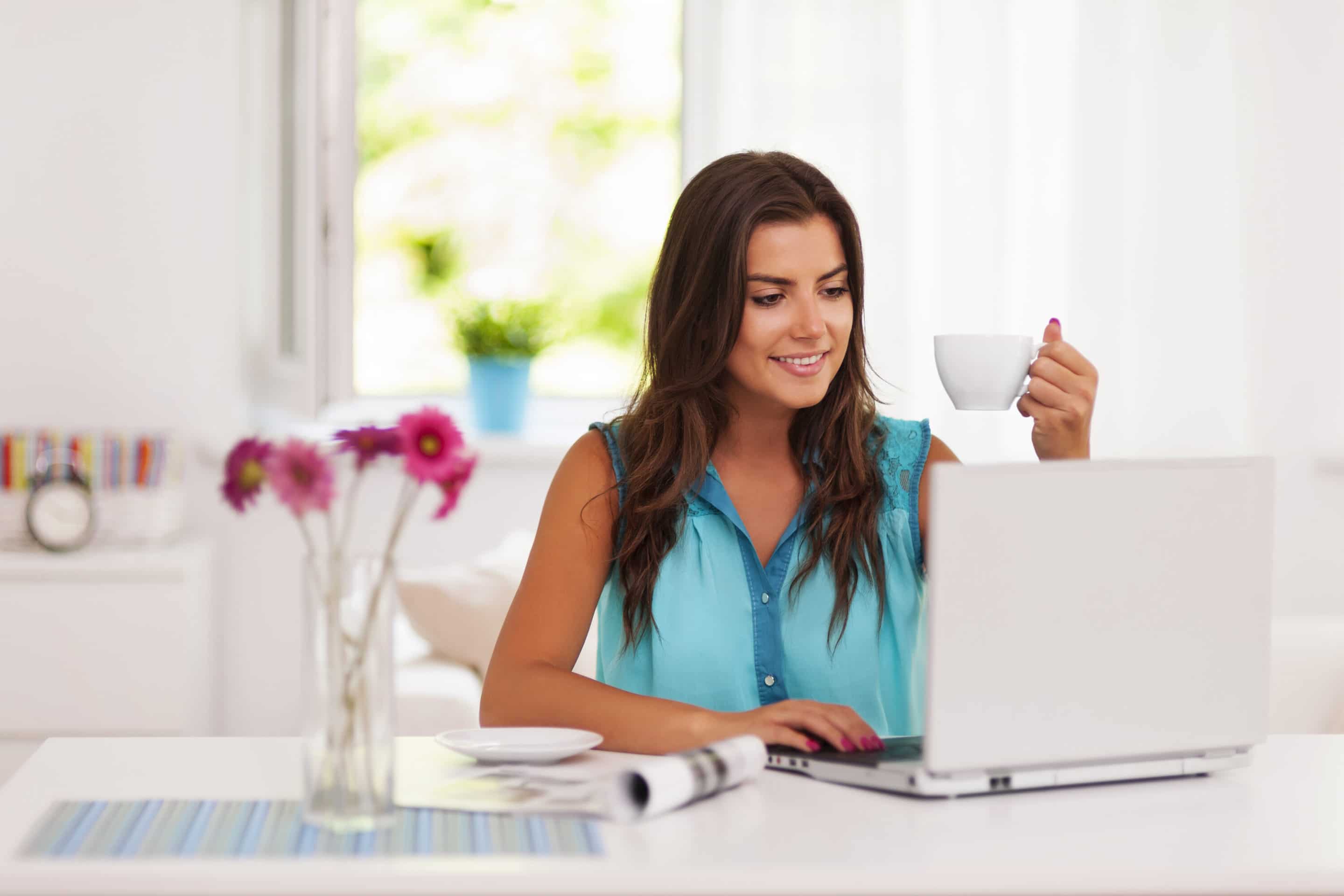 Frequently Asked Questions
Are consulting in office only? Do you do virtual consulting?
My practice is currently a virtual practice where I use video/phone consults only.  So you can sit back on your comfy couch and begin your transformation. 
Do you take insurance?
At this point I do not take insurance and that is for two reasons.  Most insurance companies do not cover nutrition consulting.  The second reason is this allows me to make the best recommendation for you rather the insurance dicating those decisions as often seen with conventional healthcare. 
Do you offer weight loss programs?
 Your weight loss journey starts with a functional nutrition assessment.  Most of the clients that I work with have tried everything and cannot lose weight.  In most cases, there are metabolic and hormonal imbalances that need to be corrected first before you can lose weight.
Do you offer group consulting?
Yes, I do.  Group consulting offers a great support system and helps to reduce costs.  Since most of my programs are highly individualized, I generally do a one on one to start with and have clients meets in groups after that.  
Do you offer genetic testing and evaluations?
Yes, I do!  I now offer genomic panels through MaxGen and Nutrition Genomics.  I also offer evaluation of other testing including 23and Me.
 You can also upload your 23and Me data to Nutrition Genomoics if your testing was done prior to August, 2017.  For more details check out my Nutrigenomics page.
Do you offer hormone testing?
Yes, I do.  Using one of the most accurate testing for hormonal levels, DUTCH testing provides not just a testing your hormones but your adrenal health too.  To learn more, please see my Restore Hormone page.